Blue Man Group, Universal Orlando
6000 Universal Blvd, Orlando, FL 32819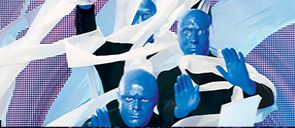 Blue Man Group performs at The Sharp AQUOS Theatre, Universal CityWalk, 6050 Universal Blvd, Orlando, FL 32819. You can access the venue from CityWalk or inside Universal Studios. You do not need a park ticket to access the venue if using the CityWalk entrance. Parking is the same as is used for Universal Studios and Islands of Adventure, just follow the general parking signs. Once You are in CityWalk, look straight ahead at Hard Rock Cafe, the Blue Man Group is to the right of that.
The Blue Man Group has been very successful in Orlando as well as many other locations. The show is never the same twice because it is very heavily based on audience interaction. This show is great for the whole family, even those that have reluctant teens. You might just learn something about science while You are being entertained. How sounds come out of most anything will amaze You, ordinary plastic pipes can produce sounds that instruments costing thousands of dollar normally make. The colors that are produced in this show will take Your breath away. Of Course this show is mostly humor and it is good to know that a show can be this funny but the humor is 100 percent clean.

The Tickets below should be bought if You find that the show You want is sold out. In that case the tickets can be bought from the source below for a higher price.
Ticket prices below are the best price from the secondary ticket market. Save 10 dollars on orders for 350 dollars or more. Customers simply need to enter code AFF$10 at checkout to receive the discount!

Mobile users
: turn phone to landscape view to see all ticket options