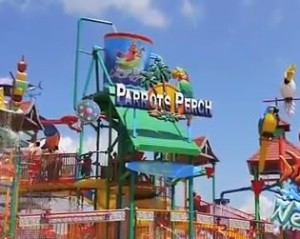 Coco Key Water Park is a small water park located on International Drive just south of the big water park Wet N Wild. The CoCo Key water park is part of the CoCo Key Resort, If You stay there You can get free passes to the water park but the water park is also open for daily passes for People that do not stay at the resort.
There are also passes that combine the water park and a meal voucher. 

CoCo Key might be small in size compared to the big-name water parks but it is large in fun. It has all the slides that are needed for any kid to have a blast. The best part is that most of the time there is very little wait even in the mid-summer busy months.
[acx_slideshow name="coco key water park"]
This Water Park is unique in the fact that just off the indoor portion of the park there is a full-size arcade, Pizza Hut, snack bar, and a full-service Bar. Yes, You can sip on a cocktail while Your kids are playing just feet away. The good thing about the indoor park is it stays nice and cool in the hot summer months and You can stay sunburn-free. The very small children can play all day in the indoor park and never get bored, the park that is outside has taller more advanced slides and is suitable for tweens, teens, and adventurous parents.