Book of Mormon, Bob Carr Performing Arts Centre, Orlando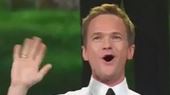 Book of Mormon will perform at the Bob Carr Performing Arts Centre in Orlando, Florida on various dates in November of 2013. This musical has been a source of controversy since its inception. The Mormons claim they have no interest in seeing it but We are not sure that is true. The show makes fun of the door to door practices of the Mormons but not in a disrespecting way (according to performers).

Ticket prices below are the best price from the secondary ticket market. Save 10 dollars on orders for 350 dollars or more. Customers simply need to enter code AFF$10 at checkout to receive the discount!