Hilton Orlando, Destination Drive, Luxury Resort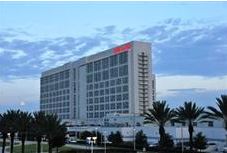 Hilton Orlando
6001 Destination Parkway, International Drive,
Orlando, Florida
The Hilton is close to SeaWprld and Universal Orlando as well as Wet n Wild. The all white Resort is one of the nicest all over Orlando. The swimming pool features, volleyball, basketball and a spiral slide as well as a separate lazy river. The lobby is filled with marble and comfy chairs. Known for the best fine dining all over Orlando, You have a few choices in every dining category.