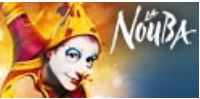 Cirque Du Soleil LA Nouba is showing at Downtown Disney.
1478 E Buena Vista Dr, Lake Buena Vista, FL 32836
Known as one of the best Cirque Du Soleil shows in the world, this one has been extremely successful. It is strongly advised to arrive hours prior to Your show time so You can find parking and maybe do a little shopping or dining. If You want to arrive just prior to the show time be sure You arrive by taxi or bus because You will not have time to look for parking.
[acx_slideshow name="nouba cirque du soleil"]
This show is definitely one for the whole family. Some shows say that but really are not but this one will entertain all ages. Think it isn't cool enough for Your teenager? Wrong! The extreme stunts that are done in this show are very cool even compared to all the extreme sports Your teenagers has seen. You will see that Cirque du Soleil is constantly updating all Cirque shows to keep up with what is cool for young People. The grown ups do not know why the show changes, they like it the old way but still like it the new way but the kids will notice. If it is cool it is in this show and Your teen or tween will love it as much or more than You. Just watch their faces or better yet sneak a picture or a video of their faces when some of these extreme stunts are being performed.
The tickets below are in case the show You want is sold out. These tickets will cost more in that case but if You absolutely must have a show that is sold out, use this source.
Ticket prices below are the best price from the secondary ticket market. Save 10 dollars on orders for 350 dollars or more. Customers simply need to enter code AFF$10 at checkout to receive the discount!

Mobile users
: turn phone to landscape view to see all ticket options