Disney's Art of Animation, Onsite Disney Value Resort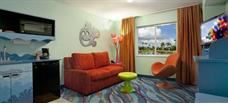 Disney's Art of Animation
1850 Century Drive, Bay Lake, Orlando
This Resort is in the Disney Value Category but do not expect the price to be the same as the other Value Resorts. It is priced more like a moderate Disney Hotel but it is made for large families, extended families or even a second family. The rooms can easily sleep 6 and more, this is like renting at least 2 regular sized hotel rooms so the price is actually a bargain. The rooms offer some cooking options as well as a fridge and a pull out sofa. The swimming pools are busy with Children from all over the world, a great place for kids to make new friends while the parents sip on cocktails from the poolside bar. The food court offers something for Everyone and can meet even the cheapest budget. You have the option of bringing Your own groceries but the food court might be something to consider so that Everyone can choose what They want. The rooms come with basic kitchen appliances including microwaves. You can buy food for the room from the onsite store for just a little more than a far away grocery store would charge so keeping the kids happy is just steps away. Not only will You get to all the theme parks easily You also have plenty to do without leaving this resort, including an arcade, playground and great swimming pools.
[acx_slideshow name="Art of Animation"]
What is great about staying at any of the Disney onsite resorts is the Disney Perks that come with it.