Disney's Contemporary Resort, onsite Disney Deluxe Hotel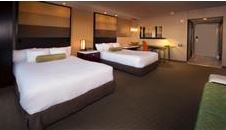 Disney's Contemporary Resort is one of the 1971 original Resorts. This one has a monorail that runs through the middle of it. And although it is 51 years old, it is still one of the modern marvels of the world. When it was built,  very few hotels had atrium's and very few have atrium's this size today. Disney has kept this resort modern by remodeling extremely often, recently the "Top of the World" restaurant was completely redone and provides a look over the Seven Seas Lagoon and the Magic Kingdom.
The swimming pool is one of the best in the Disney line, the kids love the spiral slide and center water feature. Rent a boat right out the back of the hotel or just take a free boat ride to Ft Wilderness Campground.
[acx_slideshow name="Contemporary"]
The resort consist of the A-Frame main building, garden rooms that surround the pool and Bay Lake and the newest addition Bay Lake Tower (2009). The Bay Lake Tower rooms are individually owned on the Disney Vacation Club program but can be rented just the same as the other rooms but they come at a higher price.
To stay here is the ultimate vacation, everything is at Your finger tips. You can dine casual or upscale and at Chef Mickey's You will get to meet Mickey Himself at the Character Breakfast. The Top of the World is the ultimate romantic spot for watching the fireworks or having cocktails and fine dining. Baby Sitting service is available at this resort and Kids activities are offered throughout the day.
Most guest that choose this hotel do so to be close to the Magic Kingdom. But one thing that many guest never find out is that You can walk to the Magic Kingdom in 10 minutes, no need to wait on the monorail or water taxi. This is especially important to remember when You are leaving right after a parade or fireworks show at the Magic Kingdom, the monorail lines can be extremely long. To get to other parks, You can take a bus out the front door. Or take the monorail at the transportation center or Magic Kingdom to get to Epcot. To get to Hollywood Studios, You can do that via Epcot, its just a boat ride away from there. Animal Kingdom should be reached by Bus.