This act of Islamic terrorism was witness throughout the world. What the world saw as a very strong resolve in Orlando, FL. The Pulse nightclub is self described as a Gay Club but on the night of the shooting there were said to be many Hetrosexuals. The club was putting on a Latino night which brought a wide range of People to enjoy dancing and drinking. The swat team used a 250,000 dollar bearcat vehicle to ram holes in the concrete block walls to free many patrons and to kill the shooter.
The shooter's ex wife knew of Him scouting sites to carry out His terror but said nothing, She should do prison time.
The shooter was said to be hunting down Men on gay dating apps to either kill or have sex with. Some have said that He did not want to admit His gay feelings and He was mad with Himself for being attracted to Men. He had frequented the Pulse nightclub prior to His final visit there.
Is Disney, Universal and SeaWorld safe? Yes, all three have put in measures to prevent this type of thing happening there. Each has metal detectors. I will not hesitate to visit these parks myself without any fear. These major theme parks are considered "hard targets", terrorist would rather attack targets that are much smaller and lacking security. You can bet that all attractions all over Orlando will have the most security they have ever had.
Disney Security Statement
"Unfortunately We've been living in a world of uncertainty, and we have been increasing our security measures across our properties for some time, adding such visible safeguards as magnetometers, additional canine units, and law enforcement officers on site, as well as less visible systems that employ state-of-the-art security technologies."
President Obama not interested in Orlando
As of Tuesday Morning President Obama had not even called the Governor of Florida, Rick Scott. The Governor is a Republican but normally a sitting, even lame duck President immediately contacts the Governor of any state that has experienced a disaster. The President finally decided to travel to Orlando, He is scheduled to arrive five days after the shooting. Many Orlando residents would rather He not bother, He isn't needed here.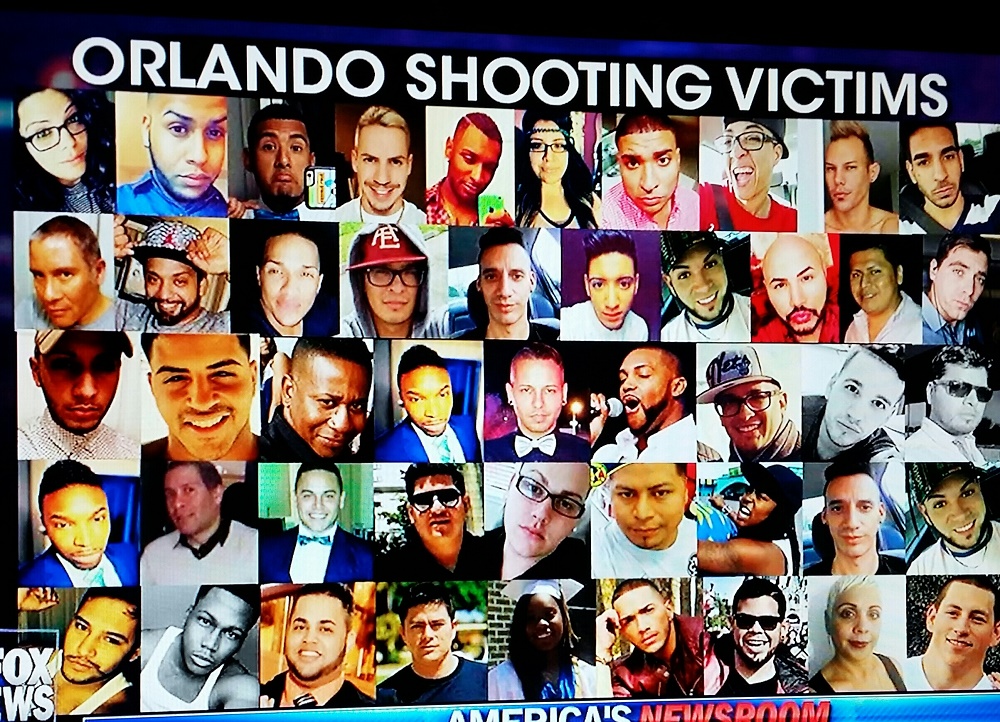 Names of the 49 people killed in the #Orlando nightclub attack read out loud at vigil. https://t.co/2FXm986Dkn https://t.co/4XDpnpzGIU

— ABC News (@ABC) June 13, 2016
"They are more than a list of names. They are people who loved and who were loved." – @andersoncooper #Orlando https://t.co/DkxxPC1XtW

— Anderson Cooper 360° (@AC360) June 14, 2016
Tonight Belfast City Hall is lit for #OrlandoLove pic.twitter.com/EAqqzqtTUC

— ???????????????????????????? (@raiderfra) June 13, 2016
National Theatre #OrlandoLove pic.twitter.com/e8gn23jvew

— Louise Brealey (@louisebrealey) June 13, 2016
The Sky Tower in Auckland, NZ tonight lit up for #OrlandoLove
❤️????????????????#loveislove pic.twitter.com/iYaAHZFZu2

— Sarah Gandy ✌???? (@SarahontheRadio) June 13, 2016
The vigil will start at 7 p.m. to honor the victims of the shooting at a gay nightclub in Orlandohttps://t.co/d83QzziklB

— Las Vegas Review-Journal (@reviewjournal) June 12, 2016

https://twitter.com/NickJonasFandom/status/742519421772566528
Bell tolls at #Orlando vigil in honor of nightclub massacre victims. https://t.co/GmyYOY1Pi6 https://t.co/7kyDPmaKng

— ABC News (@ABC) June 14, 2016
DC gay men's chorus and crowd sing "We Shall Overcome" at #Orlando vigil outside the White House #LGBTQI pic.twitter.com/xVVHhk8c4a

— EV Ellington ????️‍???? ???????? ????️‍⚧️ (@EVEllington) June 13, 2016
A candlelight vigil has been planned for tonight in downtown Nashville to honor victims of the Orlando shooting pic.twitter.com/BumdYXUHx5

— OutKick Bets (@OutKickBets) June 12, 2016
Vigil planned at Big Four bridge tonight for victims of the Orlando shooting https://t.co/toMVADh83o pic.twitter.com/52DKXEui0m

— Courier Journal (@courierjournal) June 12, 2016
UNLV Center Hosting Orlando Club Shooting Victims Vigil Tonight https://t.co/ywZAHwbKXR

— 98.5 KLUC (@985KLUC) June 14, 2016

https://twitter.com/CGBPosts/status/742502676722647041
Watch Live: Thousands gather in Orlando for a vigil in honor of nightclub shooting victims https://t.co/sclWZXMHqV pic.twitter.com/6c2a7MBNeS

— BuzzFeed News (@BuzzFeedNews) June 13, 2016

https://twitter.com/ABC/status/7425079581273661444
Last night's candlelight vigil in Seattle was a bit of light and hope in response to a dark and tragic day.https://t.co/rv1gOxXzJy

— Governor Jay Inslee (@GovInslee) June 13, 2016
In solidarity and defiance: Toronto's candlelit vigil for Orlando victimshttps://t.co/gH31fibfFq

— VICE Canada (@vicecanada) June 13, 2016
"We're on this earth for such a short time."

Families of the #Orlando victims try to make sense of this tragedy:https://t.co/78mD6CM5jX

— Splinter (@splinter_news) June 13, 2016
Here's how James Corden's heartfelt #TonyAwards intro came together: https://t.co/IEkC4a2YqK #Orlando pic.twitter.com/YSCIyqenhh

— Variety (@Variety) June 13, 2016
Couple killed in #Orlando shooting will have a joint funeral. https://t.co/Do1L3cqibM pic.twitter.com/hpowP59qcT

— Perez Hilton (@PerezHilton) June 13, 2016
How we ended NBC Nightly News tonight #Orlando https://t.co/UelFCWa5qa

— Bradd Jaffy (@BraddJaffy) June 13, 2016

https://twitter.com/DrDrewHLN/status/742497890275229697
Tonight we saw the very best of #Boston, standing together in solidarity w/ broken hearts & open arms for #Orlando. pic.twitter.com/SSmX2813qA

— Mayor Marty Walsh (@marty_walsh) June 13, 2016
Flowers being handed out ahead of large-scale vigil in #Orlando at 7pm. pic.twitter.com/VMeYBxXcfn

— Matt Johnson (@MattWSB) June 13, 2016
The Eiffel Tower is lit up in rainbow colors in honor of the victims of the #Orlando attack. https://t.co/y9wvkCuiPB https://t.co/9ejrjQJlKK

— ABC News (@ABC) June 13, 2016
.@JetBlue offering free flights to family members of #Orlando shooting victims. https://t.co/nb3m6xkOiH pic.twitter.com/9KKSEFY3N8

— FOX5 Las Vegas (@FOX5Vegas) June 13, 2016
WATCH: Orlando Gay Chorus performs "True Colors" at nightclub shooting vigil: https://t.co/EPiSboopss https://t.co/7hFn532xVm

— Good Morning America (@GMA) June 13, 2016
For those who couldn't be with us at the #SohoVigil, I feel this video best captures the feeling of solidarity ❤️ https://t.co/5w0dFqOBnX

— Calum McSwiggan (@CalumMcSwiggan) June 13, 2016
WATCH: Candles lit and flowers laid at Glasgow vigil for Orlando nightclub shooting victims https://t.co/Y5t1cObUeT https://t.co/QjzKcrJYxM

— BBC Scotland News (@BBCScotlandNews) June 13, 2016