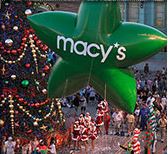 The good new is Universal Studios and Islands of Adventure are putting on Christmas and Holiday shows. The better news is these shows are including in Your daily pass to the parks. The Shows run from December 7, 2013 though Jan 4, 2014
Mannheim Steamroller, a very popular Christmas show is back again at Universal Studios, the supergroup will perform 6 concerts on these dates: December 7,8,14,15,21 and 22, 2013. The concerts will be held at 6pm each day listed at the Stage next to Rip Ride Coaster in Production Central.
The Macy's Day Parade is back again and is showing at Universal Studios. The parade is just like the one You see on TV, only smaller. The parade runs daily at these times:
Parade Times:
Dec. 7 – 25 at 5PM
Dec. 26 – 31 at 8PM
Jan. 1 – 4 at 5PM
Not to be left out of the Holiday spirit, Islands of Adventure again will present "Grinchmas Wholiday Spectacular," a live musical starring the mean green being. This event is not on a set schedule and will just pop up on You.