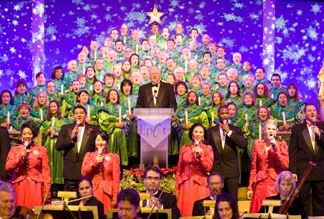 Epcot's annual Candlelight processional is back! It is free with Your Epcot admission ticket. The show runs daily from November 29 through December 30, 2013.
Show times take place 3 times during each day of the event at 5:00 PM, 6:45 PM and 8:15 PM, except on December 8, 2013, when show times take place at 6:45 PM and 8:15 PM only.
Among this year's first time narrators are actors Ashley Judd, Sigourney Weaver and Dennis Haysbert. Returning to the event, which has been held at Walt Disney World since its opening in 1971, are Christian-music artists Steven Curtis Chapman and Amy Grant, plus comedian and talk-show host Whoopi Goldberg. And probably the crowd favorite is Neil Patrick Harris.
2013 Candlelight processional narrators schedule
Gary Sinise
November 29 to December 1, 2013
Neil Patrick Harris
December 2 to December 3, 2013
Ashley Judd – NEW!
December 4 to December 5
Whoopi Goldberg
December 6 to December 7, 2013
Sigourney Weaver – NEW!
December 8 to December 10, 2013
Dennis Haysbert – NEW!
December 11 to December 13, 2013
James Denton
December 14 to December 16, 2013
Edward James Olmos
December 17 to December 19, 2013
Trace Adkins
December 20 to December 22, 2013
Steven Curtis Chapman
December 23 to December 25, 2013
Blair Underwood
December 26 to December 28, 2013
Amy Grant
December 29 to December 30, 2013