Disney's Pop Century, onsite Disney Value Resort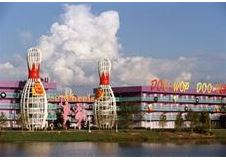 Disney's Pop Century
1050 Century Drive, Bay Lake, Orlando (Lake Buena Vista)
This three star resort is in the value category, the same as the All Star Resorts (Movies, Sports and Music) and are basically replicates of those three. Pop Century features a timeline of trends such as the "walkman" "big wheel" "foosball" and gogo boots. The rooms are not fancy but they are updated with flat screen tv's and good bedding. If You can do without a lot of frills and love the sound of Children playing, this is a great choice. You will be amazed at how quickly Your Children will meet others from all over the world and become best of friends. There is plenty of adult fun also, including poolside bars that have most all adult drinks You can imagine. The food court has great choices for everyone and the quality is what You would expect for paying much more. Fresh food grilled before Your eyes and the signature Kids meals all in one food court. If You get the meal plan You can really save on Your overall vacation. You get all the Disney Perks that the Deluxe Resorts do.
[acx_slideshow name="Pop Century"]