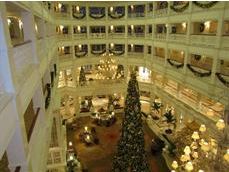 Disney's Grand Floridian Resort & Spa
4401 Floridian Way, Bay Lake, Orlando (Lake Buena Vista)
Disney's Grand Floridian Resort & Spa is one of three Resorts on the Magic Kingdom Resorts Monorail line. The Grand Floridian is also located on the Seven Seas Lagoon and boost the best wedding Chapel at Disney. Originally, Disney opened with The Contemporary and The Polynesian on the Magic Kingdom monorail line in 1971, then added the Grand Floridian Beach Resort which is now Disney's Grand Floridian Resort and Spa in 1988. The resort has 867 rooms and is in the Disney Deluxe category. The Resort has a Victorian theme and is heavily decorated in white colors. The main swimming pool renovation was completed in 2013 and features zero entry and water features that change colors at night. The new pool has a full bar at poolside. Just a few minutes walk from the main pool is another pool that is smaller but has a large poolside bar. Disney always welcomes families to all its resorts but this one seems to cater just a little more to adults than the other two Magic Kingdom Monorail resorts.
This resort is part of Florida Green Lodging Program after meeting or exceeding criteria that reduces electrical demands and use of recycled materials.
[acx_slideshow name="Grand Floridian"]
It is very easy to get to the Magic Kingdom from this resort and most People that stay here do so for that reason. You can take a water taxi from the back of the hotel or take the Monorail out the front of the hotel. The Magic Kingdom is the first stop going to the Magic Kingdom, but returning to Your Resort is faster by water taxi since You are the forth stop on the monorail that travels clockwise around the Seven Seas Lagoon.
Each afternoon and into the night a very talented band plays the big band tunes from the blaconey over looking the atrium lobby. Sit back and relax and remember the days when music was actually played with real instruments.