Lisa Bell from WKMG tv 6 took to the streets with Her little experiment recently and found that not many cars stopped for pedestrians in the cross walk. At one time She came from behind a car but still expected People to see around that car and stop for Her.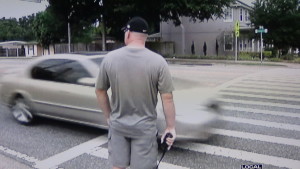 It is a common news story about a Person hit and killed on Orange Blossom Trail, John Young Parkway, Hwy 192, Hwy 535 or 536 and many others. Many are hit and runs but rarely is it the fault of the driver, most of these accidents are in areas that do not have a cross walks and are not legal for pedestrians to cross. Many are at night and the pedestrian is impaired or dressed in dark clothing. Rarely is it in a cross walk.
But the News story by WKMG triggered another cross walk crack down and of course it netted as many violations as the cops could write. It would have been far easier to stop the cars that did obey the cross walk and give them a medal for seeing the man with the walkie talkie standing on the curb yelling at cars. That Man was a plains clothes cop, Sgt Richard Ruth and was using His radio to tell the cops down the road Who to ticket, which was just about Everyone. I would bet all my money that You could follow Sgt Richard Ruth or Lisa Bell (the reporter) for a few days and find Him/Her doing the exact same thing, maybe on a different road but it would happen. Everyone is doing it, so it must be the fault of the signage, the cross walk, the lack of lights or just the fact that it is impossible to drive and watch the sides of the street constantly to see if Someone is standing there. The time it takes to look at the side of the roadways is the time it takes to send a text so doing so is just as dangerous. The only way that a cross walk can be protected is with overhead red lights or at least flashing yellow lights when a pedestrian pushes a button. If You see a Person on the side of the road waiting to cross in a cross walk do You stop suddenly? Let the car in back of You slam into You? Can the car in back of You see the pedestrian or is his view obstructed? All these decisions could be made if there was 300 feet of warning instead of 50 or if Everyone was going 5mph.
If You get a ticket for this offense it is very costly. The ticket itself isn't near as expensive as the 3 points put on Your license. Your insurance will definitely go up and it will take years for it to go back down. I would urge You to fight this ticket in court and do not stop at the local level. This is an ubsurd expectation of a driver to know When Someone is walking up to the curb.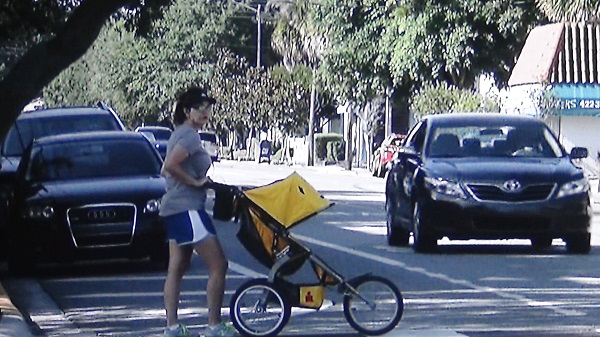 There is only one solution to this problem
If You travel Universal Blvd from Sand Lake to International Drive You know that there is a very annoying traffic light right at the Best Western. That traffic light is there for no other purpose except to allow Wet and Wild employees to cross the street. As much money as Wet and Wild makes they should have had to build a pedestrian bridge there instead of allowing each Person to stop traffic with a red light but if the City thinks it is that important, We have to live with it.


So if People are too lazy to walk to the nearest traffic light to get a protected signal and they think there is enough pedestrians crossing then ask the City to either put a stop sign at that crossing, a traffic light or a pedestrian bridge, only that will keep People safe.