Update: Name change: new name is Skyscraper, see the video
We were the first to tell You about the world's tallest coaster back in the fall of 2013 but the location was still secret. The location is no longer secret and will be formally announced on Thursday, June 5, 2014. The location will be the Northeast corner of Sand Lake and International Drive.
At 570 feet Polercoaster will be 3 times taller than Rip Ride Rocket at Universal and Expedition Everest at Disney's Animal Kingdom. And to be sure it is the tallest structure in the area the coaster will also be taller than the Orlando Eye, which is a stone's throw to the south of the Polercoaster.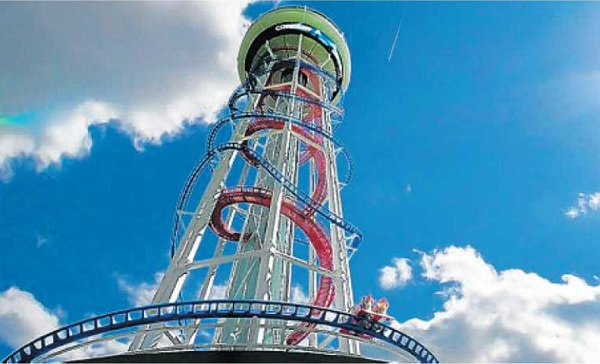 The location is currently occupied by 7-11, Burger King, Popeyes and a Tee Shirt Shop, all of which were secretly purchased over the last months and Years. The corner restaurant, Perkin's was not mentioned and might be unaffected in the new development. Across the street is the World's biggest entertainment McDonald's which will stay put.