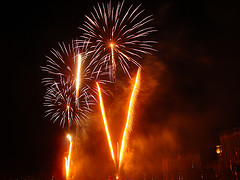 Luckily, the most populated events are staggered this year so the whole area is not shut down all at once. The biggest is on Friday at Cranes Roost in Altamonte Springs, east of Orlando via I-4. Check out the scheduled entertainment and important event information for that here. 170,000 People are expected to attend.
The second biggest event is at Lake Eola on Saturday night but is really an all day Saturday event. Entertainment begins at 4pm and ends at 10 pm. more information here.
There are more than 20 other fireworks and concerts all over Orlando but the two above are the biggest. Here is a list of all of them.
The best way to park at these two events is to leave it parked in Your own driveway. 170,000 at Cranes Roost and 150,000 at Lake Eola both have parking problems. How about a few drinks? Smart? No! The smartest thing to do is do not drive, use Uber or Lyft. Both offer the cheapest rates of any City they operate in the whole United States.
If You do not have an Uber account, this is a good time to get a free Uber ride. Worried that Uber will be over worked on this busy weekend? Don't worry, this will be business as usual, there have been weekends this busy before without any delays. You can also use Lyft, the other ride share company, You can also get a free ride with Lyft if Your account is new.